The patented experimental helicopter is a hybrid version of Airbus Eurocopter X3 which is currently in development status.
Usually, modern commercial helicopters can fly at speeds ranging from 150 to 160 miles per hour. US army's CH-47F Chinook which can fly at 195 miles per hour is currently the fastest helicopter in the world. But Airbus's new experimental helicopter will be able to fly at 293 miles per hour which are around 0.38 Mach.
How can this hybrid helicopter reach such speeds?
This hybrid helicopter adopts some of the features of fixed-wing aircraft. This is to overcome all the horizontal flight drawbacks of a normal helicopter and to achieve horizontal flight speeds like a fixed-wing aircraft.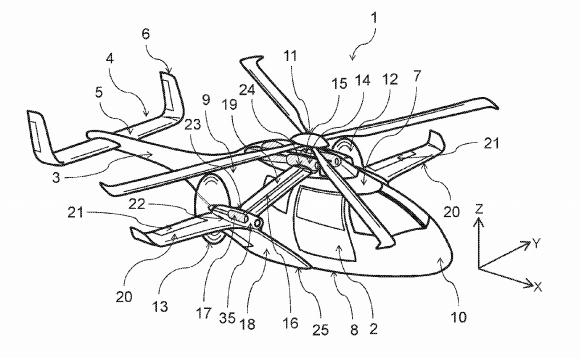 As you can identify from the above sketch, it sports a tapered nose assembly with a well-streamlined body from nose to tail. It's fixed wings carry a pair of propellers which provides thrust during a horizontal flight. These are powerful twin engines like Rolls Royce Turbomeca RTM322 series turboshaft engines which can deliver up to 2,270 shaft horsepower.
Like every other helicopter, the main rotor is installed on the top of the fuselage to create the lift. In a high-speed flight, the pilot needs to bring the main rotor to a low pitch. This will temporarily convert the helicopter into a fixed-wing aircraft.
But, where is the tail rotor?
All conventional helicopters use a tail rotor to create an anti-torque to stabilize the helicopter. You might be wondering, how does this hybrid helicopter balances the torque without a tail rotor. The tail rotor is removed in order to reduce any energy waste during a high-speed flight. The anti-torque is achieved by the varying the thrust of twin propellers in its wings.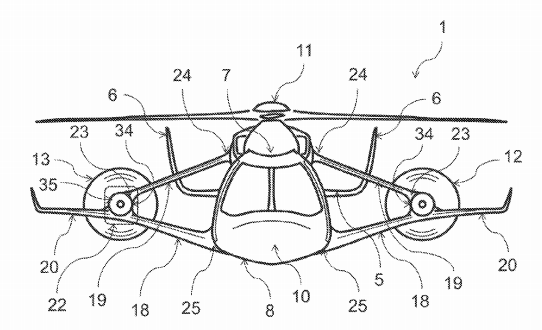 Potential applications
Higher speeds with its vertical take-off and landing features make this helicopter one of a kind. Once produced, it will find major applications in army missions, special operations, transporting troops, medical evacuation, combat search, and rescue operations.
Source: You can find more about this US patent in the United States Patent and Trademark Office website.
Image credits: Airbus Helicopters