Unmanned vehicles have been employed in the air force and in the army. Now these unmanned autonomous vehicles have found its way to the navy. In few years from now, you will be seeing unmanned undersea vehicles in naval forces.
From Google's driverless cars to unmanned aerial vehicles patrolling the skies, autonomous technology have found its application in a variety of fields and still counting.
Building naval vessels always takes time and money. Keeping this in mind, DARPA's Hydra program was created to meet those challenges in navy. The name Hydra is taken from Greek Mythology where it is the name of a multi-headed creature.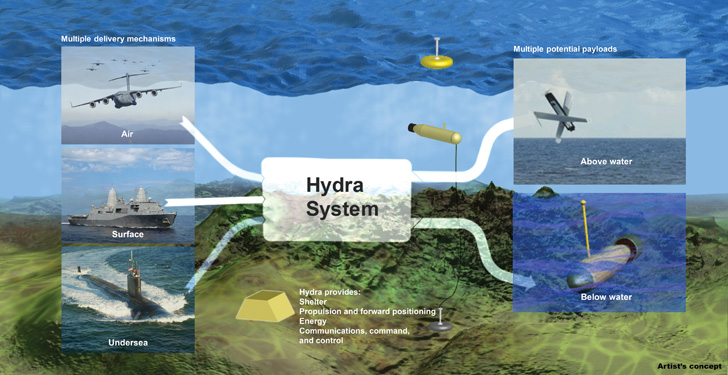 DARPA plans to develop an undersea network of unmanned vehicles to assist and improve the capabilities of manned vessels. With the existing and emerging technologies, vehicles will be developed to perform missions above and under the ocean's surface.
"The climate of budget austerity runs up against an uncertain security environment that includes natural disasters, piracy, ungoverned states and the proliferation of sophisticated defense technologies," said Scott Littlefield, DARPA program manager.
"An unmanned technology infrastructure staged below the oceans' surface could relieve some of that resource strain and expand military capabilities in this increasingly challenging space."
DARPA is currently seeking proposals to develop these technologies. There is a need for the development of payloads that are capable of providing Intelligence, Surveillance and Reconnaissance (ISR) and Mine Counter-Measures (MCM).
The Hydra system would be designed in such a way ships, submarines and airplanes could be able to deliver the Hydra system to oceans. The system would be able to communicate with manned vessels and can be able to control remotely from a location.
DARPA also stated that the Hydra system is also capable of doing things that are not currently possible by manned vessels like airborne ISA (Intelligence, Surveillance and Reconnaissance) with expendable platforms or recharging hubs for ISR capable undersea vehicles.

Credits: DARPA